Kasra - Arch - Sassanid Era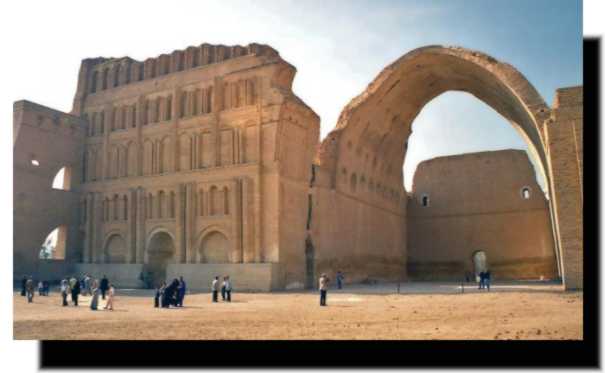 ---
.‌آمده است نخستين داوزنی (مسابقه) ساختمان سازی (معماری) در دوران خسرو پرويز پادشاه ساسانی بوده است. سازنده و کننده ای، کاريگری (معماری)، ديوار كاخ كسرا را ساخت به خسرو پرويز گفت: «به من رخست دهيد تا ديوار بنشيند، سپس من كار را دنبال كنم».
خسرو پرويز كه شتاب داشت و مي‌خواست زودتر از آن كاخ بهره‌برداري كند، گفت: «بيشتر از 15 روز يا يك ماه فرصت نداريد، و سپس بايستی آن را بسازيد».
معمار مي‌گويد پس شما با من يك استوار (امين) همراه كنيد كه ديوار را اندازه بگيرد و پس از اندازه‌گيري رسن (اندازه) آن را در گنج خانه شاهنشاه گذاشته پاسدارند تا زمان فرا رسد.
معمار پس از اين کار گريخت و هر چه به دنبالش گشتند او را نيافتند. كار به جايي رسيد كه همه همشهريانش را به بازجوئی کردند. به هر كاريگر (معمار) كه مي‌گفتند طاق را بزند با ديدن بلنداي بزرگ ديوار ها و اندازه كاخ سر باز مي‌زد.
اين طاق، بلندترين و گشاده‌ترين طاق جهان است. بعد از سه سال معمار بازگشت ... او را نزد خسرو پرويز بردند. پادشاه گفت: «اي مرد چرا گريختن و رفتن؟»
کاريگر پاسخ گفت: «از شما مي‌خواهم رسني كه با آن ديوار را اندازه گرفيتم و شخصي كه معتمدتان بود را فراخوانيد تا دوباره ديوار را اندازه‌گيري كنيم». سه رش كم آوردند - هر رش نيم گز است – يعني ديوار يك متر و نيم نشست داشت. گفت: «اگر من طاق را مي‌زدم ..
نه ايوان ماندي، نه طاق و نگار نه من ماندي بر در شهريار

It is known that; first architectural contest was on during Khosrow Parviz, Sassanid Era. A builder/Architect built tall and heavy wall of Kasra Arch. Requested that King Khosrow Parviz permits some time until the walls are settled. The King was getting ready to use the Palace, he had no time. Granted 15 Days or one month time. Architect requested for an agreement to be signed, following measuring of the wall's height. He further requested that the measurement kept in a box and locked in the King's treasury for some times until he is ready to complete the Arch for the Palace.

Following this agreement architect disappeared in town, no where to find him. King searched all his friend's home some were imprisoned until he is returning. No other architects or builders were able to complete the rest of the project, it was so big and complicated. This is the tallest, and wider arch roof ever built.

Architect returned after three years. Attending to King's Palace he was questioned; What made you to flee and disappear? King asked. Architect, asked for the box kept in the treasury. took out the measurement, asked for another measurement control. The Wall was short for three Rashan(s) (Almost 150 Centimeters).

If I was here and forced to complete the arch hold by these walls it would have collapsed by now. That was reason I had to disappear for three years. It would have no Palace left, nor Arch, neither King, No me remaining at the service of Your Majesty.