Darvaz-e-Qoran - Qoran Gate









Sagha-Khaneh Baghe-e-Eram - Eram Garden Shiraz Mosque
زير را کليک کنيد ويدئو باغ های شيراز را ببنيد. بگذاريد تا کامل دانلود شود و سپس برای بار دوم ببنيد فايل بزرگ است





Karim Khan Arg, Moin-ol-doleh reception, Shiraz Garden







Shiraz Persepolis
Glory of Persepolis
شکوه تخت جمشيد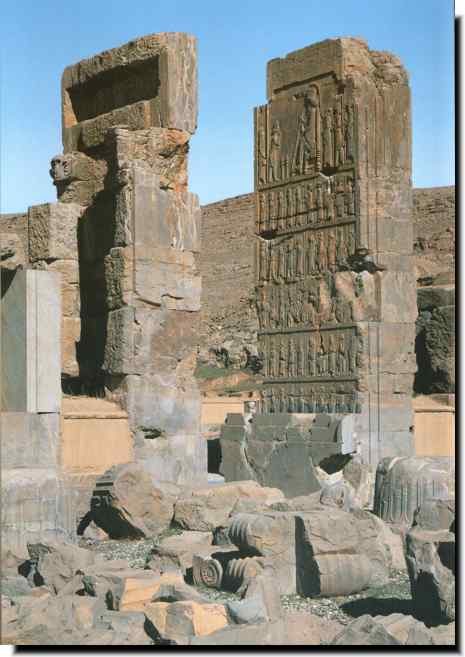 Naghsh-e-Rostam, Museum Item; part of Persepolis curtain, Marble Plates
Museum Item: Women Liberation group, Reza Shah era canyon (Used for funeral services)

These Pictures in part are copyrighted to my nephew please do not copy!
Persepolis how it was before..
Shiraz is the capital of Fars (Pars) province the historical city dated back to 700 years before Christ.

Persian or Parsi(Farsi) which is the language of Ancient Pars, has become the official language of Iran.

Various people have lived in the Pars province such who worked together to form the Iranian culture.

The first Capital of Pars, some 2500 years ago, was Pasargad. It was also the capital of Achaemenid King Cyrus the Great. The ceremonial capital of his successor, Darius I (or Darius the Great). His son Xerxes called his capital Persepolis.

Pasargad located about 77 km from Persepolis was built by Cyrus the Great. Among the interesting sites at Pasargadae is a stone platform 80 m. long and 18 m. wide. It is believed to have been the foundation of a palace.

The most important monument in Pasargadae is undoubtedly the tomb of Cyrus the Great. It has seven broad steps leading to the sepulcher, which measures 534m. in length by 531m in width and has a low and narrow entrance.

When Alexander the Great looted and destroyed Persepolis, he paid a visit to the tomb of Cyrus. It is recorded that he commanded Aristobulus, one of his warriors, to enter the monument. Inside he found a golden bed, a table set with drinking vessels, a gold plated coffin, some ornaments studded with precious stones and an inscription of the tomb, which reads: "Passer-by, I am Cyrus the Great, I have given the Persians an empire and I have ruled over Asia. So do not envy me for this tomb."
برای آشنایی بيشتر با شهر شيراز و بناهای تاريخی آن اين فايل -پی دی اف- را باز کنيد
To see Saadi and Hafez Mausoleum, the Poets that world is appreciating their contribution in culture, people relation tradition, poetry click here!